"…hallowed be your name…"
-From Matthew 6:9
My 9-year-old son recently asked, "How is their salvation in Jesus' name?!" That's a fair question. I decided against giving him a linguistic and historical answer like, "Well, son, you see the name Jesus is of Hebraic origin, a contracted greek form of Joshua, and it is comprised of two parts: "Ya" which is shorthand for "Yahweh" and "Hoshea" which means "Salvation". So His name literally means "Yahweh Saves" so, technically speaking, there literally is salvation in His name." Well, I didn't say that because that wasn't what he was asking. I think he was just wondering what was so special about a name. It's just a word after all and not some magical passcode or something, right?! Scripture is drenched with the exaltation of God's name. Just check out Proverbs 18:10, Acts 4:12, or Philippians 2:9-10 to name a few. Funny, I said name. It is important to note that back in the day, names really counted for something. They weren't just given because they sounded cool (see Dorcus or Gomer or Dodo). As Kevin DeYoung says,
"The power in the name is the person behind the name. In biblical times, names meant something. They were more than badges of identification. They often told others who you were and what purpose God had for your life. Thus, Adam was the first man. Eve was the mother of all living things. Abraham was the father of many nations. Moses was drawn out of the water. Peter was the rock."
So the importance of Jesus' name is not merely a word but what that word represents: a powerful, almighty, all-seeing, all-knowing, all-everything Servant-King who saves. What is interesting in the Lord's Prayer is that "hallowed be your name" is not a declaration but a request. It does not say, "Our Father in heaven, your name is holy." In this prayer Jesus is requesting His Father make His name holy in the world and in the life of the person praying. As we pray, Jesus makes it clear that our first request always be that we are given a deep understanding of who God is. Our primary posture must always be one of reverence, awe, and worship when coming before God in prayer. Once we see God (both His name and what it represents) as set apart above all then we can proceed with lesser requests.
Tulguur Chuluu – Gachuurt, Mongolia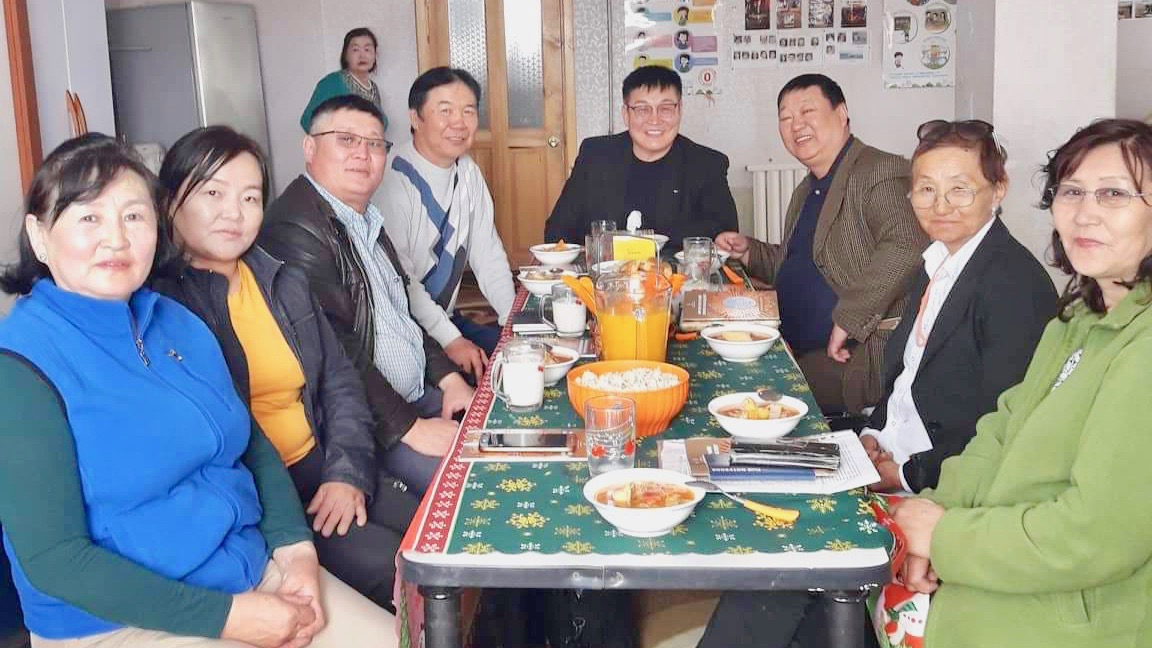 About Tulguur Chuluu:
Tulguur Chuluu is a wonderful church in the center of Gachuurt, Mongolia just down the rocky road out to our children's home. The name means "Pillar Stone". The church is served by Pastor Amraa and is wife, who is a doctor. In this photo from our children's home, they are seated on the left between Puje and Aaya. Pillar Stone Church was established five years ago and has become a great outreach to the city.
How You Can Pray:
1) Please pray for the youth and kids ministry to grow
2) Provision to build a second floor to the church building as they expand their ministry space
3) They would like to build a hot water shower building in the church yard as there is no public place for people in the community without shower access to bathe
Mundo De Fe (World of Faith Church) – Diriamba, Nicaragua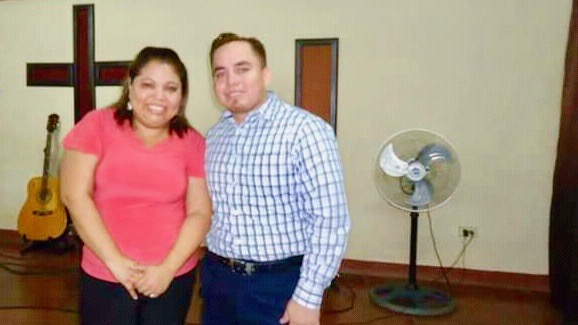 From Angel Martinez Cano:
"Our church is in the Rene Chick community of Diriamba. My wife and I have been married for 17 years and it has been a blessing. My wife is my rock especially when I go through challenging times in my ministry. We don't have kids but I believe that God has a purpose for that and we thank Him because He knows what is best for us. I trust Him and love God no matter what. We have 40 members and have services four days a week.  We also go door-to-door to share the gospel and teach those who are in spiritual need how they can get saved. Being a pastor is not easy and is not something I wanted to do but when God tells you "Go!", you gotta go. Thank u so much for praying for us. We will be praying for all of you. I believe that the Lord places people in to our lives for a reason."
How You Can Pray:
1) Please join us in praying for peace for our nation
2) We need God to rescue our youth who are living wrong
3) Please pray for the elderly in our community who do not have homes
Ganbat – Driver, Mongolia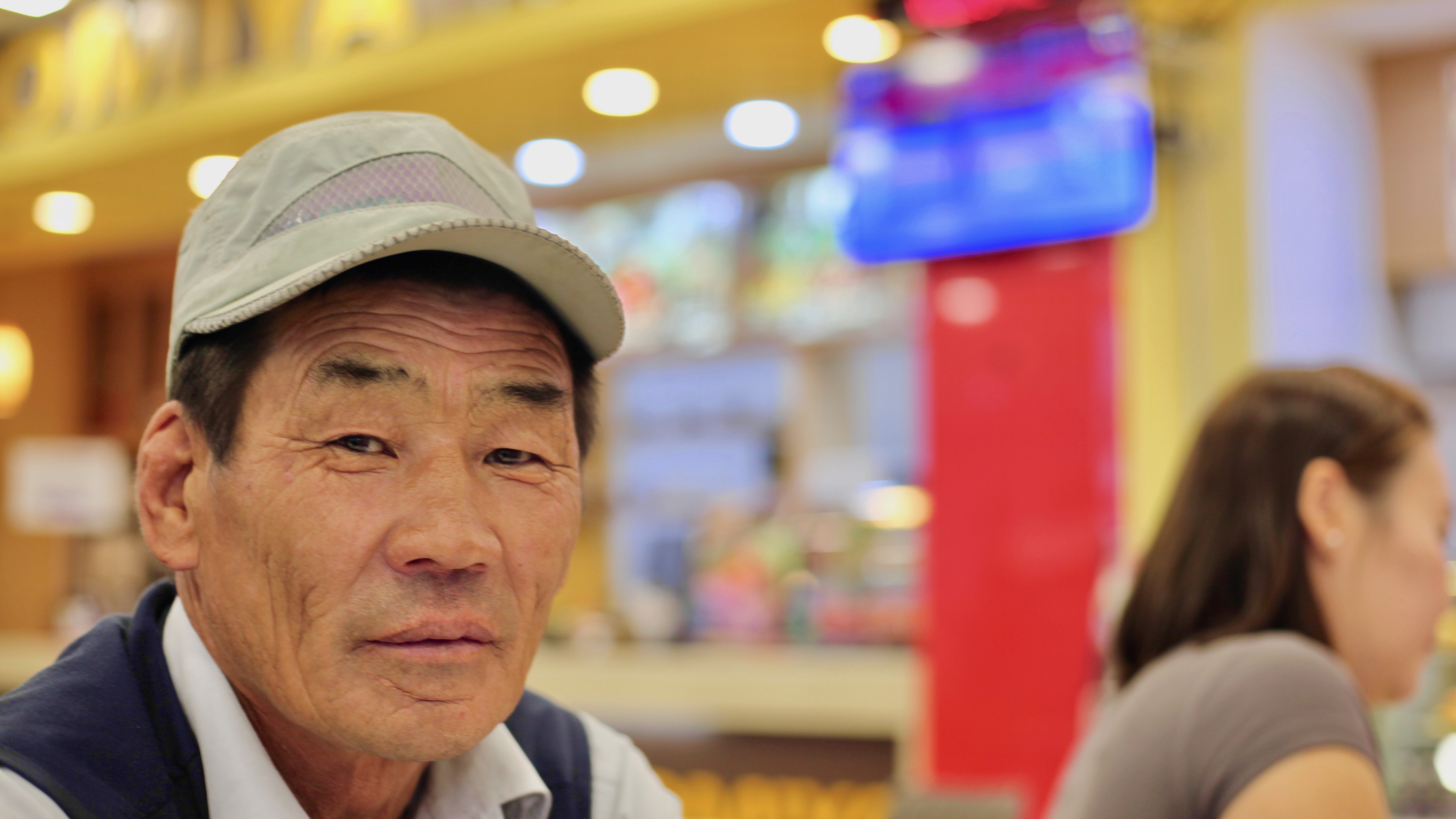 About Ganbat:
We love Ganbat! There are seven people in his family. He has five children and seven granddaughters! His lives on the WEGO property with his wife, Tsetsegee, who serves our ministry as a cook. He has been working as a driver for more than three years and spends his days making sure our children safely arrive at school, doctor visits, and other activities. Ganbat is a retired professional wrestler who also likes to make things with his hands like turning livestock skins into whips or belts. But don't be fooled, he also has a softer side and loves to plant trees!
How You Can Pray:
1) Join him in praying for his children's lives and for good health for himself
2) To improve the housing environment to build up their own house and fence
3) For his newly married son to have a baby. No grandson for now.
Moises Herrera – English Teacher, Nicaragua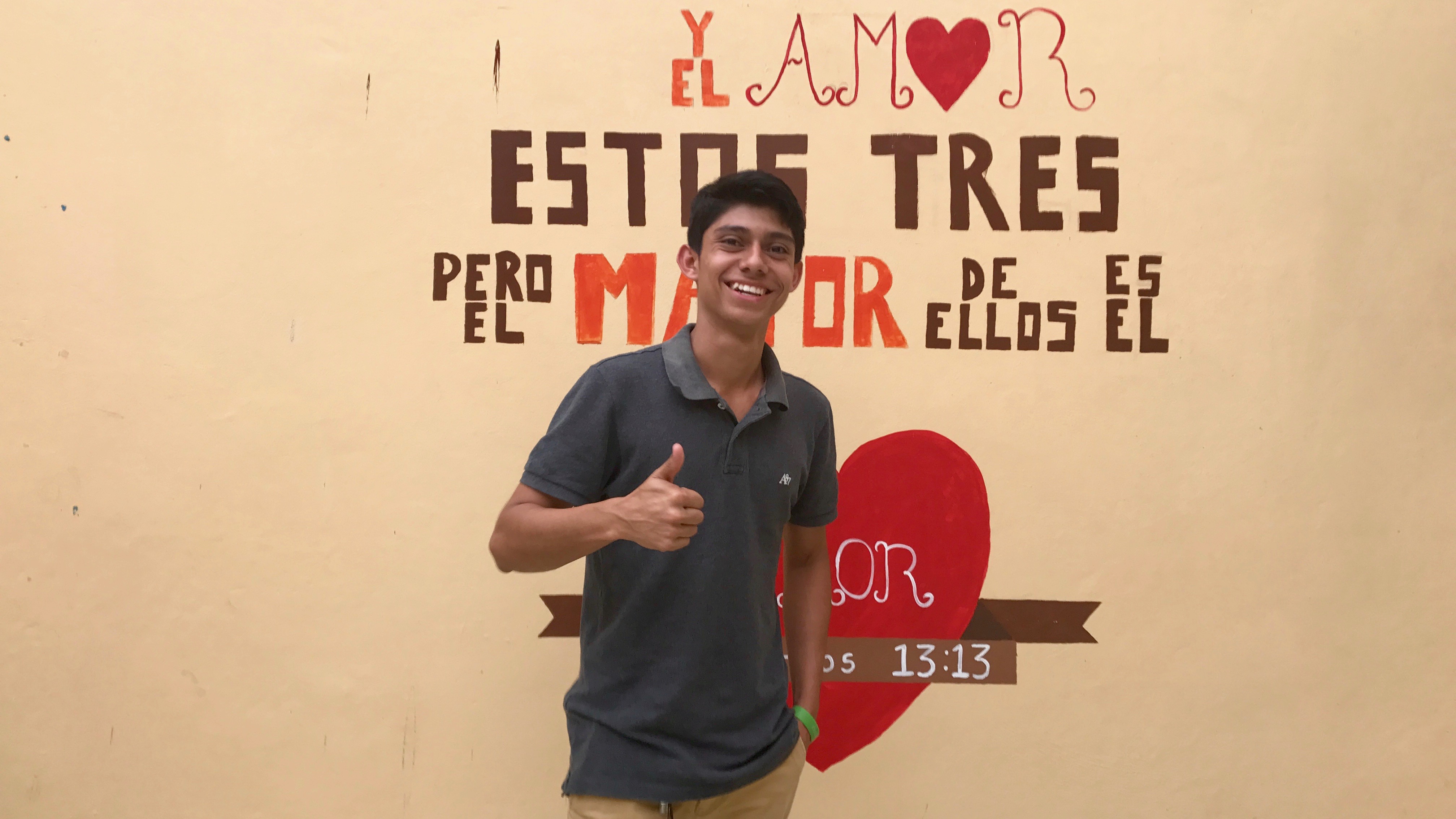 From Moises:
"The experience has been awesome here. We learn how to work as a team with the rest of the teachers and the students, as well. Spiritually speaking, the students are learning more about God and our new students are also learning. My vision for this year is that we can do things better and more kids can apply what they learn in their everyday lives. I think I have the responsibility to share the gospel with my students and the people that I work with. It has been awesome to be a part of this and work as a team. I have learned many good things working here."
How You Can Pray:
1) Please pray for the health of my family
2) Pray with me for the students to seek God
3) For this ministry, that the Lord will be upon this ministry always
Altantulga – New Hope Children's Home, Mongolia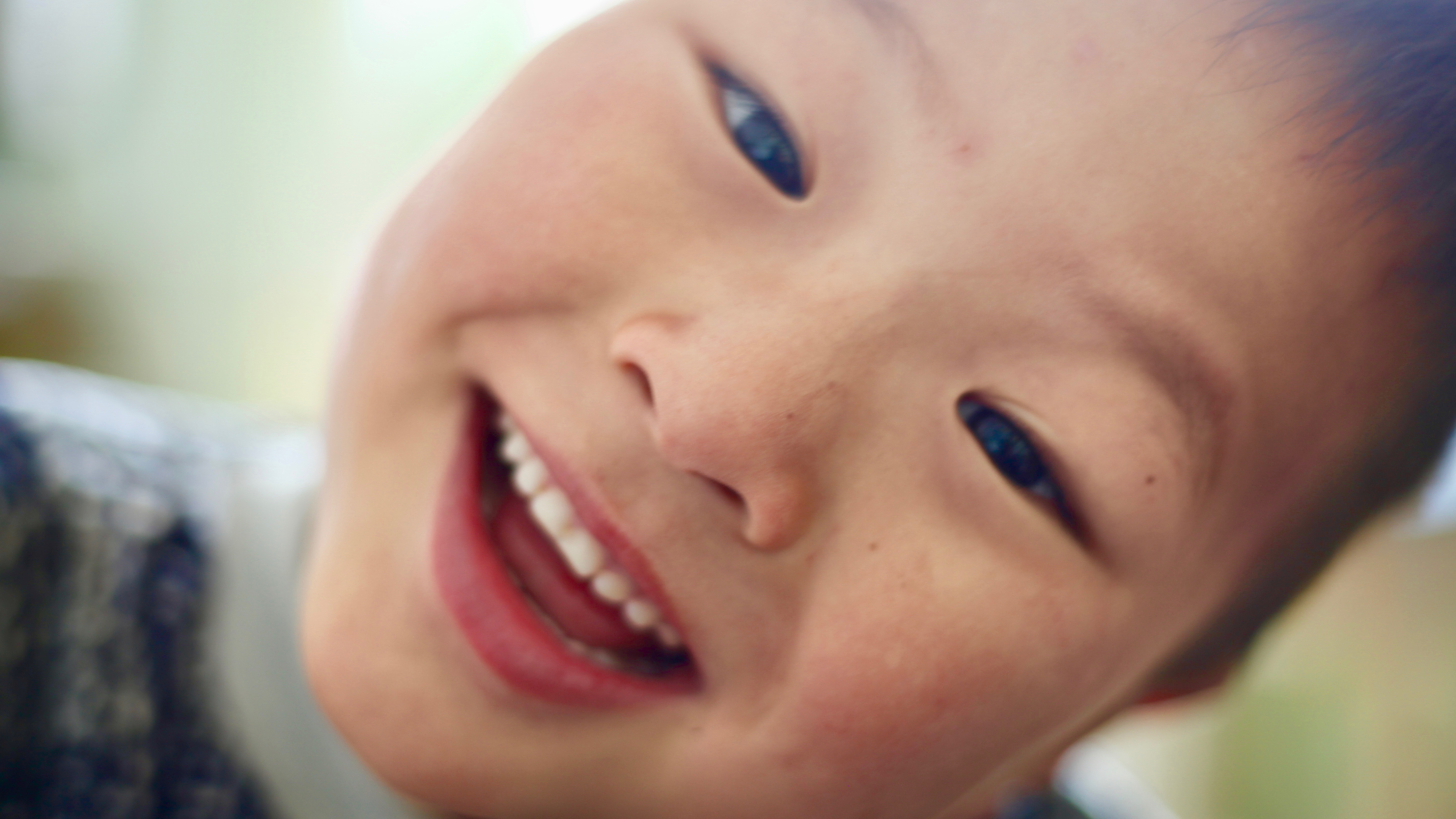 About Altantulga:
Tulga is 5 years old and used to live with his grandmother before coming to our home two years ago. He is an active and sweet boy who loves to play with cars and the other kids. He is currently enrolled in a local kindergarten where he is learning many new things. We sure love Tulga! He has a real curiosity for life and brings a softness to our home.
How You Can Pray:
1) For his health as he has poor eyesight and relies on glasses to see clearly
2) Pray for his future as he grows up in the love of God that he has learned during his time at the orphanage
3) For wisdom as he continues to grow and stretch his mind in school
Maria Jose Gonzales Lanzas 
– New Hope School, Nicaragua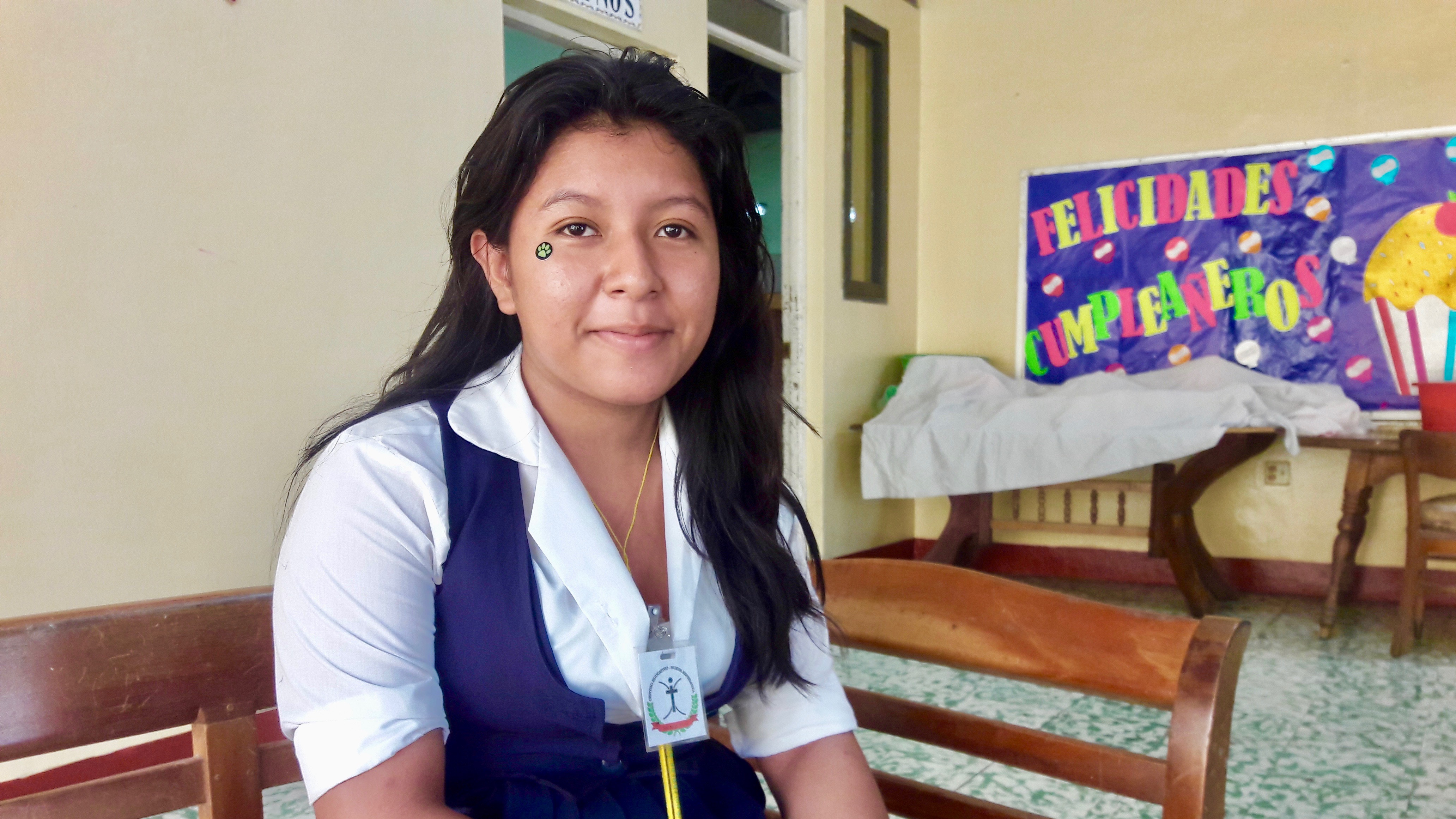 From Maria:
"I am 12 years old and I am in 7th grade. I have two sisters and one brother. I live with my mom because my dad lives in Costa Rica. He comes to visit once a year. We don't own a house but we live in my uncle's house. I love going to church and singing. I also love watching TV and drawing. I love going to my grandpa's house to eat mangos because he has so many fruit trees. My mom cleans houses sometimes for a living. I would love to be an interpreter when I finish school. My church's name is Gethsemane which is located in the Roman Estevan community near WEGO's property. My mom is 43 years old and her name is Juana Maria. I love my school because I learn good things and I eat great."
How You Can Pray:
1) For my dad because he needs to accept Jesus
2) Please pray for my mom's happiness
3) For our own house
A Desire to Serve – The Johnson's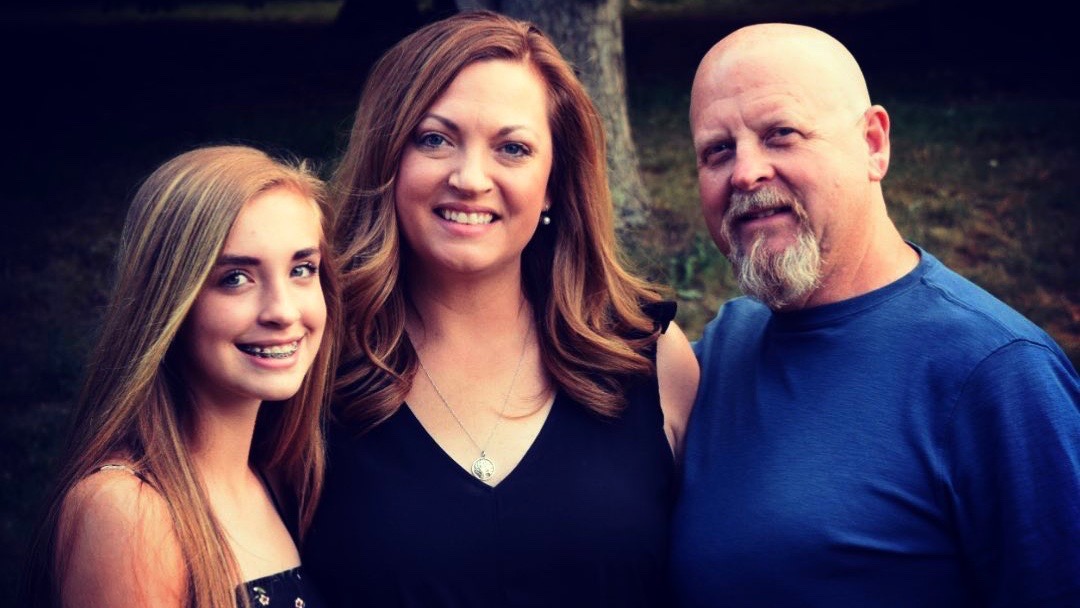 A New Season for The Johnson's:
Stan, Tamera, and their daughter Abbi have served as WEGO missionaries to Nicaragua since 2016. With hearts desiring to serve and hands ready to work, they quickly jumped in, abandoned security, and began pursing God's call for their family in Nicaragua. Through constant trips and extended stays, they not only developed deep and long-lasting relationships with our WEGO staff and community, they also were able to begin a new work of strengthening marriages through local churches in our city. We are so grateful for their willingness to jump in and serve our ministries at a crucial time, however needed. They shopped vehicles for our ministry (Stan), curled hair for graduation (Tamera, obviously), and brought billions of bright smiles to the kids in our Bible Club (Abbi). They led Bible Studies, stacked chairs, greatly resourced our school and staff, and everything in between. With every trip they brought with them heaps of encouragement, love, generosity, and most importantly, presence. We are forever grateful they decided to just show up and serve with us over these last few years.
Just this week, they have landed back in Nicaragua as a family to start a new ministry venture appropriately named "A Desire to Serve". As they leave their WEGO post, we want to make sure you can stay up-to-date with their new work in Nicaragua. You can like their Facebook page to keep following their journey and join with them. We will also be adding their website soon when it's up and running. Please join us in thanking God for their season of ministry with us and keep praying for them as they leap in faith towards God's new call on their lives.
How You Can Pray (From the Johnson's):
1) Pray for us as we begin to pour into marriages here in Nicaragua
2) In partnership with a local church, we are hosting a youth retreat for 60 kids in the community
3) We will be walking through the book of Romans with a small group. Pray that hearts will be opened to the understanding of God's true grace.
Rosa Melia Selva – Kitchen Volunteer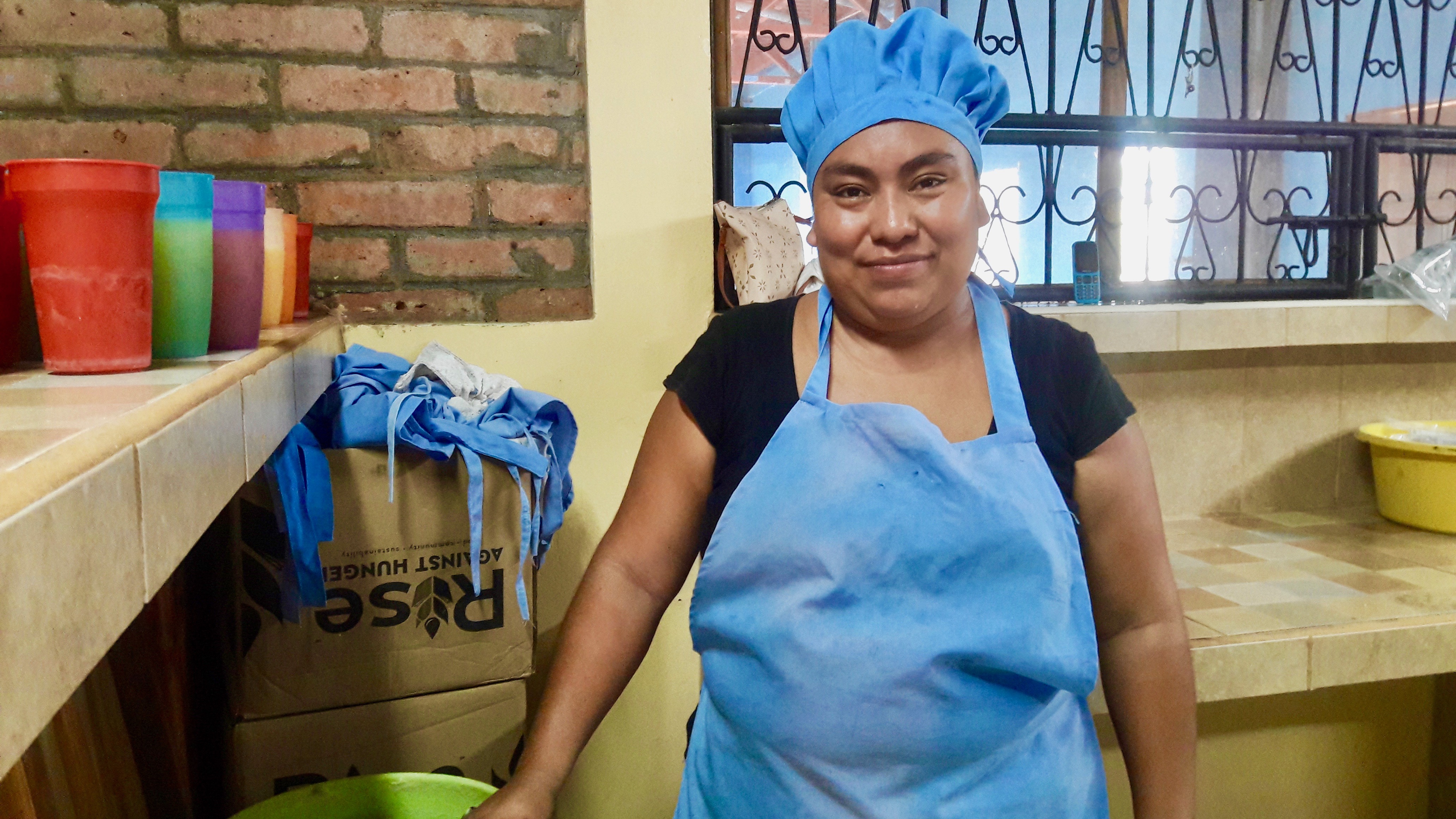 From Rosa:
"I am 35 years old and have been married for 20 years. I have two boys and one girl. We live in the Roman Estevan community but we don't have our own house. We are guarding a friend's house.  We have been living in that house for years. My husband is a pastor and his name is Bernardino. He is 38 years old. Our church's name is Gethsemane. We have church services every day. I work with the women in our church. Sometimes in the afternoons we go door-to-door to share the gospel and we invite people to our church. My oldest son graduated from New Hope School and now my daughter is planning to finish school here, as well. My youngest boy will study at New Hope when he is older. He is just 2 years old now. The most demanding thing as a pastor's wife is to deal with people. Please pray for that because I must have patience to work with different kinds of people. We are building the church and the members have so many opinions. That it is why as a pastors wife I pray for my husband every day. I love helping in the kitchen here. I have been helping for eight years now and it has been awesome. The ladies I work with are so sweet and friendly."
How You Can Pray:
1) Please pray for my health as I had knee surgery not long ago and my knees still hurt sometimes
2) For my husband's church and for his wisdom as he leads
3) Pray with us for our kids. They are teenagers and need to be closer to God.
Munkhsuld – "Sdudent Comedy"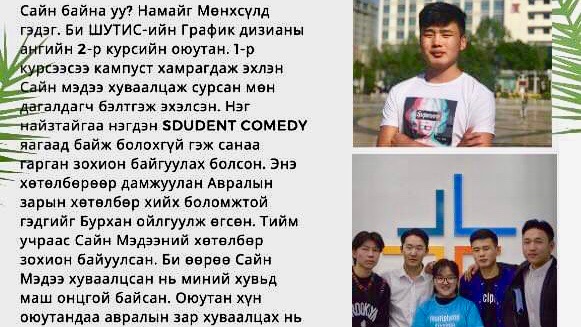 About Munkhsuld:
Munkhsuld is in his 2nd year at a computer science university in Mongolia. During his first year, he learned how to evangelize and make disciples. He and his friend had a vision for an evangelistic comedy program. Through "Sdudent Comedy", Munkhsuld is sharing the good news of Jesus with his fellow students and others throughout the area. He has been working hard to build this program and knows that it is his calling from God.
How You Can Pray:
1) For Munkhsuld to know God more and continue to grow in his relationship with Jesus
2) For God to provide everything needed (finances and logistics) as he prepares to share his ministry in the countryside
3) Please pray for Munkhsuld's continued good health